Meet Erick Blackwelder
Hi, I'm Erick. Husband, father, son, friend, and the local real estate guy in Prince William County, Virginia.
I'm an Air Force Brat, raised all around the world, from Wiesbaden to Wahiawa. Dad retired from active duty and we moved to Fairfax County, Virginia, where Dad had a second career at the Pentagon. We packed up and moved often, so I know how much effort is required to move you.
When you work with Erick, you are getting the experience of a full-time Realtor for over 21 years. You also get 2 agents for the price of 1, because Peggy James is Erick's listing partner.
When I'm not helping nice folks like you buy or sell a home, I enjoy flying, golf, snow skiing, boating, and fine hand-rolled cigars.
You can find homes for sale, and get instant updates by email HERE.
Learn how my Listing Specialist Peggy James can "Sell Your Home Fast" read more here
If you need real estate help or have questions feel free to give me a call.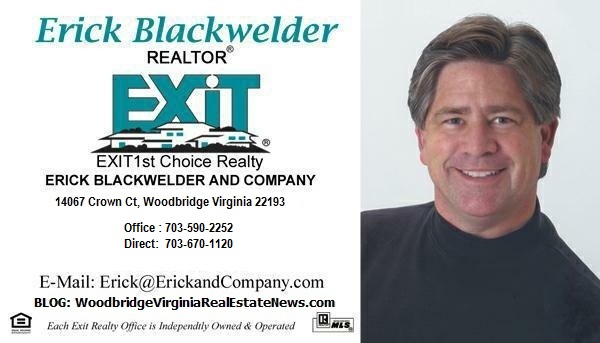 REALTOR
703-677-1120
703-677-1120
703-232-1049
14067 Crown Ct
Woodbridge
,
VA
22193
Download vCard
Erick Blackwelder Biography
Find out what is the latest news about homes for sale in Woodbridge, Virginia. CLICK HERE NOW to see what's happening in and around Woodbridge.
I'm Erick Blackwelder, husband, father, friend, private pilot, open ocean sailor, and REALTOR in Woodbridge Virginia with over 2,000 happy clients over 22 years helping nice folks like you sell a home or buy a home.
When you choose Erick & Company, you get a team of agents working on your behalf, helping you buy a home or sell your home.
Growing up as an Air Force brat, I learned first-hand the hassles associated with moving. My vision for you is a smooth, easy move, with the fewest hassles. My family moved 8 times by the time I was 11 years-old. I remember the hassles, and I appreciated the help we got from others.
Erick & Company at Exit Choice Realty, 14067 Crown Court, Woodbridge VA 22193
---